Introduction to the murder of Seamus Ludlow and the official cover-up.
Michael Cunningham investigation - 1978
The recent Campaign for Truth and Justice.
Irish Victims Commission Report.
Ludlow family's questions for the RUC (now the PSNI)
Jim J. Kane's letter to the N I Human Rights Commission.
Jim J. Kane's letter to the RUC
Ludlow Family Letter to Bertie Ahern
View messages from our original Guestbook

Other Ludlow Family Sites.

Visitors are invited to leave messages of support on our New Guest Book

Photographs 5.

Make us your homepage! Internet Explorer Only.
Photograph: Faughart National School, north of Dundalk, County Louth. Late 1930s.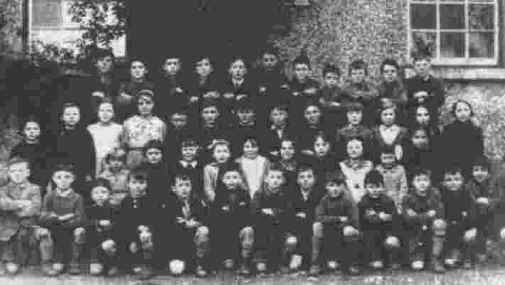 In this photograph taken at Faughart National School, sometime during the late 1930s, the young Seamus Ludlow appears third from the right in the back row. Also featured is Seamus' sister Kathleen (now Mrs. Donegan), who is positioned in the second row from the front, at second from the left. Sadly, like Seamus Ludlow, many of the other children pictured here have passed away.
The children have been identified as:
Back Row (l. to r.) Patsy Campbell, Gerry Curran, Tom Reynolds, Donal Rogan, Owen Quinn, Francie Mohan, Nicholas Murphy, James Rogan, Seamus Ludlow, Jim Burns.
Second Row (l. to r.) Ena Mohan, Nora Fee, Winnie Murphy, John Roe, Kevin Reynolds, Michael Murphy, John McArdle, Seamus Smith, Seamus Doherty, Ethel Grey, Margaret Murray, Kathleen Ferguson, Sylvia Kelly.
Third Row (l. to r.) Annie McFadden, Kathleen Ludlow, Moya Duffy, Nora Rice, Bridie Flynn, Ita Rogan, Phyllis Kelly, Ivy Keenan, Peggy Murphy, Annie Mohan.
Front Row (l. to r.) Brian McManus, Mickey Smyth, Brendan Murphy, Brendan McArdle, Brian Murphy, Paddy Murphy, Pat Reynolds, Pat Roe, Jim McArdle, Joe Flynn, Joe McArdle, Eddie Smyth, Jim McFadden, John Campbell.

I Photographs I I Previous I I Next I I Top of Page I

SUPPORT THE SEAMUS LUDLOW APPEAL FUND
Bank of Ireland
78 Clanbrassil Street
Dundalk
County Louth
Ireland
Account No. 70037984
Thank You.

I Home I I Top I I Previous I I Photographs I I First Ludlow Site I I Questions I I Chronology I I Brief Review I I Profile I I BIRW Report I I BIRW Update Message I I Photographs I I Latest Reports I I Hamilton Inquiry I I Ludlow family letter to the RUC I I Contributors I I Press Release I I Linda Porra's Editorial I I Links I I New Guest Book I I E-Mail Form I I Mailing List I I Tell a Friend I


Last edited: 13/07/05 17:24:56

Copyright © 2005 the Ludlow family. All rights reserved.
Revised: July 13, 2005 .