Ludlow Family Account 1998.
On this page we reproduce journalist Ed Moloney's 15 March 1998 report from the Sunday Tribune in which he featured the Ludlow family's account of the cover-up that followed the murder of this was the follow-up to the previous week's report in which Ed Moloney interviewed north Down Loyalist Paul Hosking.


The murder of Seamus Ludlow
Sunday Tribune, 15-3-98
by Ed Moloney
Gardai cover-up
Evidence is emerging showing that Garda Special Branch detectives in Dublin and Dundalk may have helped to cover up the 1976 murder of Co Louth man Seamus Ludlow, the Sunday Tribune has established.
According to members of his family a senior Garda detective has admitted privately that the Special Branch was aware within weeks of Seamus Ludlow's death twenty-two years ago of the real identity of his killers. For over twenty years Gardai told the Ludlow family that the IRA was responsible but now it appears that all that time they knew that assertion to be untrue.
As revealed in last week's edition Seamus Ludlow's killers were three members of a Red Hand Commando unit, two of whom were officers in the British Army's Ulster Defence Regiment, who drove across the Border on the night of May 1st, 1976 to carry out the killing.
According to the testimony of a fourth man who was with them the RUC Special Branch was given full details of the killing and the culprits in 1987 but failed to act on the information. The man told a Special Branch officer that Seamus Ludlow (47) was a random victim, picked up while thumbing a lift on the Dundalk-Belfast Road and then shot by one of the Red Hand Commandos.
The source of the allegation, Paul Hosking, then a 19 year old factory worker, was caught up in the affair when he went drinking with men he knew to be off-duty UDR soldiers but ended up a horrified witness to Seamus Ludlow's killing. He was later threatened with death if he told the authorities.
He and the three Red Hand Commandos were arrested by RUC detectives three weeks ago for questioning. They were released without charge and a report sent to the North's Director of Public Prosecutions. The failure of the RUC to bring charges either now or in the past has fuelled speculation that at least one of the Red Hand Commandos was a security force agent and that the killing was covered up in 1976 in order to protect an informer.
An investigation by the Sunday Tribune has also revealed that in the days following the killing the British Army took an interest in the line of inquiry being pursued by Garda detectives. By contrast, Ludlow family sources say, the RUC were much less interested in the case. This raises the intriguing possibility that if there was an informer in the midst of the Red Hand Commando unit he may have been working for British military intelligence rather than the police.
The investigation has also uncovered disturbing allegations that Garda Special Branch and CID detectives in the Dundalk area mounted a smear campaign against the Ludlow family in 1976. Two family members were told separately and by different detectives that Seamus Ludlow had been killed by the IRA for informing and that members of the Ludlow family knew about it beforehand. (The Sunday Tribune has been furnished with the names of the Garda detectives involved in this but for legal reasons will not publish them)
According to family sources Garda allegations of IRA responsibility started within hours of the discovery of Seamus Ludlow's body, dumped in a hedgerow not far from his home on May 2nd, 1976.
Michael Donegan, a nephew of Seamus Ludlow who was in his early twenties at the time recalls the events: "Their (the Garda) attitude was that he was shot by the IRA and he must be an informer. They basically tried to say that he drank in pubs where other people drank, like the Border Inn, near Drumadd barracks. At that time if you were a republican you would have drunk there and you would have met Seamus Ludlow.
"He wasn't married. He lived for his work, his mother and his drink. He didn't go out for a fight or a carry-on, he went out for a quiet social drink and he met lots of people. So he knew a lot of republicans. That was the basis for the informer allegation".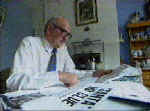 Another nephew, Jimmy Sharkey, who was also in his early 20's at the time concurs. He was twice questioned by Garda detectives, once for nearly four hours, and believes he was a suspect in the Gardai's eyes. One of the policemen was very aggressive towards him "C would use very violent language, in fact his superior had to caution him. He was saying things like 'It was the IRA, you fucking well know it was the IRA' ", he recalls.
Michael Donegan's father, Kevin, who died six years ago, called regularly at Dundalk Garda station after the murder to check up on progress in the investigation. "He had established contact with a number of detectives and he wanted to know what was happening", Michael Donegan remembers.
"He went in about once every fortnight or so to see a couple of detectives called C and H. This went on for about six months and they filled him full of shite. They were telling him that not only did the IRA do it but it was a family affair, that members of the family knew all about it. We were disgusted. They were saying that a member of our family murdered him or got him murdered. We couldn't believe it but my father went to his grave half believing what he had been told".
A similar experience happened to Seamus Ludlow's brother Kevin who lives now in Co Cavan. "Any time I came back to Dundalk I would go and call on Sgt G and this was him all the time: 'It was the IRA, the IRA, the IRA.' As a matter of fact he accused one of our relations of knowing about it. 'I'll fucking get them', he would say." The Sergeant was transferred to the Garda Special Branch after the murder.
Jimmy Sharkey echoes the allegation: "The Guards operated a dirty tricks campaign in Dundalk at the time against our families and they were very good at it. To blame republicans suited the situation at the time. Where we lived was a very staunchly republican area so if the cap fits wear it. That's why they put out this campaign to dishonour the family".
The Donegan branch of the family, which lives in Dromintee, south Armagh, came across intriguing evidence of British Army interest in the killing. A day after Seamus Ludlow's funeral a military patrol called to their home.
Michael Donegan takes up the story: "My father answered the door and they said: 'Mr Donegan we want to talk to you, we've been sent here by the RUC to ask you a few questions'. My father replied 'What has this got to do with you?' The soldiers said that the RUC had sent them and what they wanted to know was what line of inquiry the Garda were taking."
His father refused to speak to them but went later to Forkhill barracks to talk to the RUC. But there were no police there only military. He was taken by military helicopter to Bessbrook Army base where a British officer quizzed him for over an hour. "It was all about what line of inquiry the Gardai were taking", says Michael Donegan. "But to this day no RUC man has ever questioned us about the case nor shown any interest in it".
Cracks in the Garda wall of solidarity over the Ludlow murder have appeared in the last couple of years. Within three or four weeks of the killing in 1976 the Garda inquiry suddenly stopped. A sympathetic local Garda recently told the Ludlow's he believed orders to halt things had come from Dublin.
Then six months ago Jimmy Sharkey met a senior detective who told him what he had long suspected, that Gardai knew not long after the event who the real culprits were and that implicitly the stories about IRA responsibility were rubbish.
"He told me that a lot of information about these guys (the Red Hand Commando unit) was known in 1976, shortly after Seamus was murdered. He said it was also known by Gardai in Dundalk. They knew who did it. He also told me that one of the guys in the car that night was giving information to the authorities. I reckon from what he told me that they knew 60 to 70 per cent of the story back in 1976.
"I asked him why this was never conveyed to the family and he said 'I don't know, I don't know, I just don't know.' He kept saying that things were done differently in those days."
The Ludlow family say they will now press for an independent public inquiry into Seamus Ludlow's death. They want the three Red Hand Commandos prosecuted. Of Paul Hosking, Jimmy Sharkey has this to say: "Paul Hosking was an innocent party and still is an innocent party. Where Seamus Ludlow was the victim in 1976, Paul Hosking is now the victim. The family holds nothing against him and feels that only for him we probably wouldn't be where we are today".
© Sunday Tribune

The Sunday Tribune, 8 March 1998: Ed Moloney The killing of Seamus Ludlow: Northern Editor reports on how the RUC covered up the part played by members of the security forces in a loyalist gang murder in County Louth in 1976.
The Sunday Tribune Editorial, 15 March 1998: Time for Ludlow Inquiry.
The Sunday Tribune, 30 August 1998: Gardai had identities of Ludlow's killers
The Sunday Tribune, 21 February 1999: Ludlow inquiry faces resistance Calls for Ludlow inquiry face official resistance from Justice department, writes Ed Moloney
The Sunday Tribune, 16 May 1999: Ludlow inquiry shows collusion
The Sunday Tribune, 23 May 1999: Cabinet to decide on Ludlow inquiry
The Sunday Tribune, 8 August 1999: The case that is not going to go away
The Sunday Tribune, Letters to the Editor, 19 September 1999: In support of Ed Moloney
The Sunday Tribune, 3 October 1999: Ludlow inquiry limited
The Sunday Tribune, Sunday 17 October 1999, by Ed Moloney: North's DPP has decided not to charge Loyalists arrested in connection with Ludlow killing
The Sunday Tribune, 12 December 1999:
O'Donoghue to consider 'Public' inquiry into Ludlow murder
The Sunday Tribune, 15 April 2001: O'Loan asked to investigate Ludlow killing
The Sunday Tribune, 20 May 2001: Inquiry into Louth murder criticised
The Sunday Tribune, 2 December 2001: Long list of those who want no Finucane inquiry

Last Edited: 23 August 2002