Introduction to the murder of Seamus Ludlow and the official cover-up.
Michael Cunningham investigation - 1978
The recent Campaign for Truth and Justice.
Irish Victims Commission Report.
Ludlow family's questions for the RUC (now the PSNI)
Jim J. Kane's letter to the N I Human Rights Commission.
Jim J. Kane's letter to the RUC
Ludlow Family Letter to Bertie Ahern
View messages from our original Guestbook

Other Ludlow Family Sites.
Visitors are invited to leave messages of support on our New Guest Book .

Photographs 2.
Right: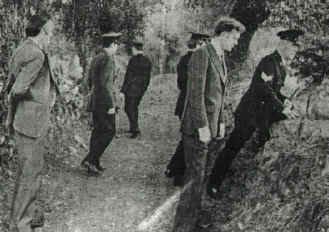 Gardai investigation: This photograph, said to date from the day after Seamus Ludlow's body was discovered in May 1976, shows former Chief Superintendent John Courtney, in plain clothes (second from right) and other members of the Gardai investigation team in the lane at the scene of the crime. Just what they were looking for remains a mystery.
Now retired, ex-Garda murder squad detective Mr. Courtney, is reported to have received an investigation file, identifying at least three Loyalist suspects for Seamus Ludlow's murder from the RUC in Belfast in 1979. The existence of this file was never made known to the Ludlow family, who were still being told that there were no other suspects. No action of any kind was taken against the suspects by either the Gardai or the RUC until their arrest in 1998.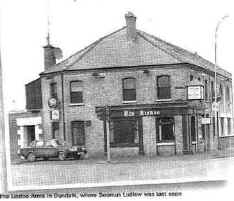 Pictured here is the Lisdoo Arms public house on the N1 road just north of Dundalk, the last place where Seamus Ludlow was seen drinking on the night of 1 May 1976. There are reports that in the days after his murder, the Gardai were given information from a member of the public which identified a British soldier who was inside this bar at around the same time. They were also given the registration number of a car with three men inside that was parked nearby. This information was published by the late Michael Cunningham, in his book Monaghan County of Intrigue in 1979.
I Photographs I I Previous I I Next I I Top of Page I

SUPPORT THE SEAMUS LUDLOW APPEAL FUND
Bank of Ireland
78 Clanbrassil Street
Dundalk
County Louth
Ireland
Account No. 70037984
Thank You.

I Home I I Top I I Previous I I Next I I First Ludlow Site I I Questions I I Chronology I I Brief Review I I Profile I I BIRW Report I I BIRW Update Message I I Photographs I I Hamilton Inquiry I I Latest Reports I I Contributors I I Editorial I Press Release I I Links I I New Guest Book I I E-Mail Form I I Mailing List I I Tell a Friend I

Last edited: 13/07/05 17:13:54

Copyright © 2005 the Ludlow family. All rights reserved.
Revised: July 13, 2005 .