Introduction to the murder of Seamus Ludlow and the official cover-up.
Michael Cunningham investigation - 1978
The recent Campaign for Truth and Justice.
Irish Victims Commission Report.
Ludlow family's questions for the RUC (now the PSNI)
Jim J. Kane's letter to the N I Human Rights Commission.
Jim J. Kane's letter to the RUC
Ludlow Family Letter to Bertie Ahern
View messages from our original Guestbook

Other Ludlow Family Sites.

Visitors are invited to leave messages of support on our New Guest Book

Photographs 4.

Right: In this photograph Kevin Ludlow examines newspaper coverage of his late brother's murder in May 1976. Kevin, the only surviving brother of Seamus, has been active for many years in searching for the truth behind his brother's murder and the failure of the Gardai to bring the killers to justice. On many occasions he was told lies by Gardai in Dundalk.
The headline "Santa No Clue", comes from the Sunday World and it made reference to Seamus Ludlow's local reputation as a popular Santa Claus in the Dundalk area at Christmas time. See also Seamus as Santa, on page 3.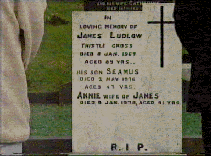 Right: In this photograph Kevin Ludlow and Jimmy Sharkey are standing in front of Seamus Ludlow's grave at Ravensdale. See also photograph on page 3.
Seamus is buried beside his late mother and father, Annie and James Ludlow. James predeceased his murdered son in January 1967, while Annie Ludlow lived on until January 1978, never knowing the true facts of her son's death.

I Photographs I I Previous I I Next I I Top of Page I

SUPPORT THE SEAMUS LUDLOW APPEAL FUND
Bank of Ireland
78 Clanbrassil Street
Dundalk
County Louth
Ireland
Account No. 70037984
Thank You.

I Home I I Top I I Previous I I Photographs I I First Ludlow Site I I Questions I I Chronology I I Brief Review I I Profile I I BIRW Report I I BIRW Update Message I I Photographs I I Latest Reports I I Hamilton Inquiry I I Ludlow family letter to the RUC I I Contributors I I Press Release I I Linda Porra's Editorial I I Links I I New Guest Book I I E-Mail Form I I Mailing List I I Tell a Friend I


Last edited: 13/07/05 17:21:45
Copyright © 2005 the Ludlow family. All rights reserved.
Revised: July 13, 2005 .