25th Anniversary Commemoration:
29 April 2001.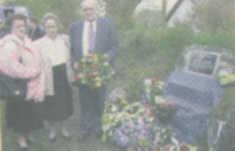 Irish Organizations United's preview page.
Irish Organizations United's Update page
The Dundalk Democrat's Report.

The Commemoration: I 1 I 2 I 3 I 4 I
SUPPORT THE SEAMUS LUDLOW APPEAL FUND
Bank of Ireland
78 Clanbrassil Street
Dundalk
County Louth
Ireland
Account No. 70037984
Thank You.
This page was last updated on 07/13/05 .
I Home I I Top I I First Ludlow Site I I Questions I I Chronology I I Brief Review I I I Profile I I BIRW Report I I BIRW Update Message I I Photographs I I Hamilton Inquiry I I Latest Reports I I Ludlow family letter to the RUC I I Contributors I I Linda Porra's Editorial I I Jim J. Kane's Letter to the Northern Ireland Human Rights Commission I Jim J. Kane's Letter to the RUC I I Press Release I I Ed Moloney Interview I I Links I I New Guest Book I I Mailing List I I E-Mail Form I I Tell a Friend I

Make us your homepage! Internet Explorer Only.

Copyright © 2005 the Ludlow family. All rights reserved.
Revised: July 13, 2005 .