Introduction to the murder of Seamus Ludlow and the official cover-up.
Michael Cunningham investigation - 1978
The recent Campaign for Truth and Justice.
Irish Victims Commission Report.
Ludlow family's questions for the RUC (now the PSNI)
Jim J. Kane's letter to the N I Human Rights Commission.
Jim J. Kane's letter to the RUC
Ludlow Family Letter to Bertie Ahern
View messages from our original Guestbook

Other Ludlow Family Sites.

Visitors are welcome to leave messages of support on our New Guest Book.
Ludlow Family's Letter to Bertie Ahern
This letter from the Ludlow family was passed to Irish government officials, on 14 May 2001, at Ballymascanlan Hotel, just three hundred metres from the site of Seamus Ludlow's murder.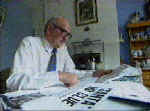 The Ludlow family availed of an opportunity provided by a special meeting of Taoiseach Bertie Ahern and his cabinet to reiterate their demand for a public inquiry and to repeat their request for a family meeting with Mr. Ahern. The meeting also afforded the Ludlow family the opportunity for a meeting with the Minister for Justice John O'Donoghue, who received the letter on Mr. Ahern's behalf.
The Ludlow family was represented by Kevin Ludlow, the only surviving brother of the late Seamus Ludlow, and two of his three sisters Mrs. Nan Sharkey and Mrs. Eileen Fox; and nephews Brendan Larkin and Jimmy Sharkey.
On this occasion they were joined by Margaret English, a daughter of the late Hugh Watters, who was killed in the Loyalist bombing of Dundalk in December 1975. The Rooney and Watters families of Dundalk also demand justice for their murdered fathers and husbands.
Originally, the families had thought of protesting along with other groups that had gathered at the hotel during the cabinet meeting, but as Jimmy Sharkey told the Dundalk Democrat, it was felt that a more peaceful and dignified approach was required. As Jimmy explained: "we decided it would not do our campaign any good roaring and shouting. As it turned out we were very pleased to have the opportunity to meet with Minister O'Donoghue and Minister Dermot Ahern to discuss our case".
To date, no meeting has ever been granted with Mr. Ahern!
[ Home ]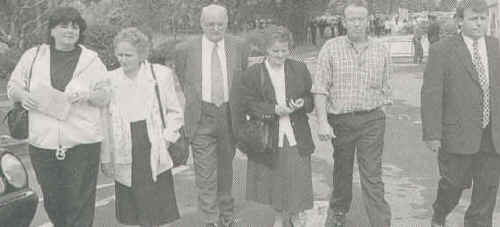 Photographed here at extreme left is Margaret English, daughter of the late Hugh Watters (Dundalk Bombings Campaign); entering Ballymascanlan Hotel with members of the Ludlow family to hand in letters to the government ministers meeting there. The Ludlow family is represented by Mrs. Nan Sharkey, Mr. Kevin Ludlow and Mrs. Eileen Fox, with Brendan Larkin and Jimmy Sharkey (nephews of the late Seamus Ludlow).

An Taoiseach, Mr Bertie Ahern, TD
Ballymascanlan Hotel
13 May 2001
Dear Mr. Ahern,
The Ludlow family welcomes your visit to the Ballmascanlan Hotel, just three hundred metres from the spot where our deceased relative Seamus Ludlow was murdered in May 1976. We respectfully take this opportunity to once again prevail upon you to consider our call for an independent public inquiry into this matter. We also call upon you to meet with us at your earliest convenience so that we can discuss with you our reasons for demanding a public inquiry.
Members of the British Army's Ulster Defence Regiment (UDR) and the outlawed murder gang Red Hand Commando cruelly murdered our relative near here twenty-five years ago on the night of 1st and 2nd May 1976. Ever since that day we the family of Seamus Ludlow have been denied justice and truth. Our deceased relative's good name was tarnished while his sectarian killers remained free to kill again and again. The gardai, as we now know, have had a file on at least three of the named killers since at least 1979.
The Ludlow family demands explanations for the manner in which the gardai conducted the initial murder investigation: why the investigation was abandoned after only three weeks without our being informed; why the Ludlow family was excluded from Seamus Ludlow's inquest on 19th August 1976; why the gardai never went after the Loyalist/British Army killers, whose names were identified certainly by 1979. We want to know why these killers were protected from justice, and who issued instructions for the gardai to suspend the initial murder investigation and instead blacken the good name of the innocent victim of sectarian killers.
We the Ludlow family believe that there are many more questions arising from this shocking murder, just three hundred metres from the Ballymascanlan Hotel, that cause grave disquiet within the wider community. We believe that these questions can only be explored adequately in a public inquiry, similar in scope to the British Saville Inquiry into the Bloody Sunday massacre in Derry.
Furthermore, Mr. Ahern, we believe that our case for a public inquiry in this tragic matter is as valid and compelling as any that you personally have made for a number of cases of collusion in the Six Counties. We commend your calls for public inquiries into the Pat Finucane and Robert Hamill murders in the North and we implore you to adopt the same standard in the murder of our relative Seamus Ludlow on this side of the border.
We hope that you will give our requests for a public inquiry into the murder of Seamus Ludlow your most personal consideration and we respectfully await your consent for a meeting with us and our legal representatives as soon as possible.
Respectfully Yours
Mr. Kevin Ludlow
(Brother of the late Seamus Ludlow)
Mr. Jimmy Sharkey
(Nephew of the late Seamus Ludlow)
Mr. Michael Donegan
(Nephew of the late Seamus Ludlow)
I Top I

SUPPORT THE SEAMUS LUDLOW APPEAL FUND
Bank of Ireland
78 Clanbrassil Street
Dundalk
County Louth
Ireland
Account No. 70037984
Thank You.
This page was last updated on 11/18/03 .
I Home I I Top I I First Ludlow Site I I Questions I I Chronology I I Brief Review I I I Profile I I BIRW Report I I BIRW Update Message I I Photographs I I Hamilton Inquiry I I Latest Reports I I Ludlow family letter to the RUC I I Contributors I I Linda Porra's Editorial I I Jim J. Kane's Letter to the Northern Ireland Human Rights Commission I Jim J. Kane's Letter to the RUC I I Press Release I I 25th Anniversary I INew Guest Book I I Mailing List I I E-Mail Form I I Tell a Friend I
Please use one of these

links:
Contact us! Contact us! Contact us!

Make us your homepage! Internet Explorer Only.

Copyright © 2003 the Ludlow family. All rights reserved.
Revised: November 18, 2003 .