Introduction to the murder of Seamus Ludlow and the official cover-up.
Michael Cunningham investigation - 1978
The recent Campaign for Truth and Justice.
Irish Victims Commission Report.
Ludlow family's questions for the RUC (now the PSNI)
Jim J. Kane's letter to the N I Human Rights Commission.
Jim J. Kane's letter to the RUC
Ludlow Family Letter to Bertie Ahern
View messages from our original Guestbook

Other Ludlow Family Sites.

Visitors are invited to leave messages of support on our New Guest Book

Photographs 3.

.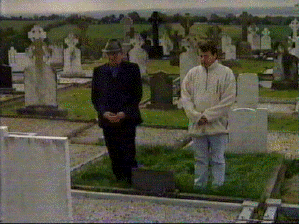 At Seamus Ludlow's grave: In this photograph, taken at Ravensdale's Catholic cemetery, north of Dundalk, in County Louth, Kevin Ludlow, (left), the only living brother of Seamus, stands with his nephew Jimmy Sharkey at the grave of Seamus Ludlow. Together, they have led the Ludlow family's search for truth and justice for many years. See also photograph on page 4.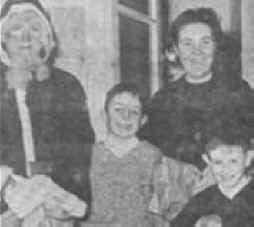 Seamus Ludlow as Santa: In this newspaper photograph, Seamus Ludlow, dressed as Santa Claus, poses with his sister-in-law Kitty Ludlow (now deceased) and two of her sons Peadar and Brendan.
Seamus, who was ordinarily a quiet man, had a great love for children in his large family circle, and he often played the role of Santa Claus around Dundalk at Christmas time. One newspaper at the time of his murder headlined its story with "Who killed Santa Claus?"
I Photographs I I Previous I I Next I I Top of Page I

SUPPORT THE SEAMUS LUDLOW APPEAL FUND
Bank of Ireland
78 Clanbrassil Street
Dundalk
County Louth
Ireland
Account No. 70037984
Thank You.

I Home I I Top I I Previous I I Photographs I I First Ludlow Site I I Questions I I Chronology I I Brief Review I I Profile I I BIRW Report I I BIRW Update Message I I Photographs I I Latest Reports I I Hamilton Inquiry I I Ludlow family letter to the RUC I I Contributors I I Press Release I I Linda Porra's Editorial I I Links I I New Guest Book I I E-Mail Form I I Mailing List I I Tell a Friend I


Last edited: 13/07/05 17:17:55
Copyright © 2005 the Ludlow family. All rights reserved.
Revised: July 13, 2005 .