New Guest Book

Latest Reports - Page 6.
9 August 2000 - The United Nations High Commission for Human Rights sent the following e-mail message to Jim J. Kane, Scranton, Pennsylvania, USA. Jim, of Irish Organizations United, is a valued supporter of the Ludlow family's demands for a public inquiry into the murder of Seamus Ludlow.
Dear Sir,

We acknowledge the receipt of your message. Unfortunately, the Office of the High Commissioner for Human Rights cannot be of assistance to you in this case.
The Commission on Human Rights does not consider individual complaint and the existing machinery which could take it up would be barred to do so rationae temporis. The murder was committed 24 years ago and the procedure for dealing with individual alleged violations of human rights was not yet into existence.
Regards
Webadmin
I Top I
28 July 2000 - The following letter was received from the Taoiseach's office in Dublin.
28 July, 2000

Mr. James MacGuill
MacGuill and Company, Solicitors
5 Seatown
Dundalk
Co. Louth

Re: Seamus Ludlow Deceased
Your Ref JMG/NMG 3415

Dear Mr. MacGuill,

I have been asked by the Taoiseach, Mr. Bertie Ahern, T.D. to refer to your letters of 9 June and 18 July, 2000 about the above matter.

The Taoiseach has asked me to draw to your attention that in the course of a reply to Parliamentary Questions on this matter on 23 May, he said

"the best way forward in my view is for the Government to extend the remit of Mr. Hamilton to this case on a basis broadly similar to that which applies in the case of the Dublin/Monaghan bombings. in this regard, discussions between Departments and offices concerned on the detailed terms of reference are close to a conclusion, following which proposals will be put before the Government. If approved by the Government, the proposed terms will be the subject of consultation with Mr. Hamilton and with the legal representatives of the victim's relatives."

The Taoiseach is conscious of the position that you and your clients have consistently taken in favour of the institution of an independent judicial inquiry into this matter. However, as indicated by him in Dail Eireann, he is convinced that the most appropriate approach is to proceed broadly on the lines of the Commissions of Inquiry into the Dublin/Monaghan and Dundalk bombings being conducted by the former Chief Justice, Mr. Liam Hamilton, S.C.. Under this approach, a public judicial inquiry is not ruled out at this stage. It would be one of a number of options that could be considered, following on the completion of an examination by an eminent legal person.

Nor would examination by Judge Hamilton preclude your clients continuing, if they wished, to campaign for a public inquiry, as the Justice for the Forgotten group continue to do in regard to the Dublin/Monaghan bombings.

The case of the murder of Mr. Ludlow has been dealt with in a recent submission to the Government. it is now expected that interdepartmental consultations on the best approach will be brought to a conclusion soon, with a view to a further submission to an early meeting of the Government.

yours sincerely,

pp David Feeney

Brendan Ward.
Private Secretary to the Taoiseach.

I Top I
21 July 2000 - Jane Winter, the esteemed Director of the human rights group British Irish Rights Watch, London, wrote the following to Taoiseach Bertie Ahern urging him once again to hold a public inquiry into the murder of Seamus Ludlow:
Although it has been announced that this dreadful murder will be examined by Mr. Justice Hamilton as part of his Commission of inquiry, you will be aware that this decision was taken without consultation with the relatives of Seamus Ludlow. They have always called for a public inquiry, and are not satisfied with a Commission of inquiry, which will not enable them or their lawyers to have direct access to primary evidence which has been denied them for many years. There is absolutely no doubt in my mind that they have been the victims of a cover-up, and in refusing them the public inquiry they seek the Irish Government only fuels public perception that cover-up took place on both sides of the border.

The Irish Government has been staunch in its support for the Bloody Sunday relatives, the Finucane family and the Hamill family, all of whom I know arevery grateful for you support for public inquiries in their cases. Seamus Ludlow's relatives can only look on and wonder why the same support is not forthcoming for them. I feel bound to mention that when I attended a meeting between them and the Minister for Justice I was appalled by his apparent lack of sympathy and respect for their situation.

Some of Seamus Ludlow's relatives are getting on in years and do not enjoy the best of health. It will be a bitter blow indeed should any of them die before the truth about their loved one's brutal murder is uncovered.

I have observed on the occasions when we have met that you personally have a burning passion for justice. Surely that passion, and the compassion that I also know you have for the victims of the conflict, speaks to you now. Please bring an end to this misery and order a public inquiry into Seamus Ludlow's death.
I Top I

18 July 2000 - In a letter to the Irish Times, Councillor Dessie Ellis (Sinn Fein), responding to criticism of his party by Dr. Garret Fitzgerald, formerly Taoiseach and leader of Fine Gael, in his column of 8 July:
Mr. Ellis rebuked Dr. Fitzgerald for remaining silent about "the violence - including killing children with plastic bullets, shoot-to-kill operations and collusion with loyalist death-squads - of British forces in the North"
He continued:
". . . His governments failed to properly investigate the Dublin/Monaghan bombings (the worst atrocity of the Troubles) and the sinister killing of Seamus Ludlow in Dundalk. Not only did he remain silent, but his governments spent vast sums of Irish taxpayers' money in collaborating with these forces. . .".
Councillor Ellis makes a fair point. Certainly, Fine Gael was in government at the time of Seamus Ludlow's murder by a Red Hand Commando and Ulster Defence Regiment murder gang in May 1976 - and also in government on several occasions since than too, but other parties have also held power in Dublin and they also failed "to properly investigate" the atrocious crimes that were committed in the Irish State by pro-British forces.
I Top I
4 July 2000 - The office of the Chief Constable, Royal Ulster Constabulary, replied to a letter written by Ludlow family campaign supporter and Irish Organizations United activist Jim J. Kane, Scranton, Pennsylvania, United States. While this reply does retread old ground and gives no new information regarding the RUC's investigation of the murder of Seamus Ludlow it does make a curious reference it not being "force policy to comment on matters pertaining to "Agents"." Here is the full text of the RUC's reply.
Dear Mr. Kane,

Murder of Seamus Ludlow

I refer to your correspondence of 5 May 2000 regarding the above.

I am advised that information relative to the murder of Mr. Ludlow was passed by the Royal Ulster Constabulary to An Garda Siochana in 1979.

I am further advised after a request from the Garda in 1998 the RUC arrested and interviewed four persons in relation to the murder. All four persons were released pending a report to the Director of Public Prosecutions. On 15 October 1999 the DPP directed "No Prosecution".

I can inform you it is not force policy to comment on matters pertaining to "Agents". Police reports to the DPP are confidential documents as are forensic/ballistic reports.

Finally, the question of whether or not a public inquiry should be held is not for the RUC to determine.

I trust this is of assistance.

Yours sincerely,

R.D. McCausland

Superintendent

for Chief Constable
I Top I
26 June 2000 - The Belfast daily Irish News newspaper featured across two pages an excerpt of the soon-to-be-published book Unfinished Business: State Killings and the Quest for Truth, by leading academic Bill Rolston. This new book focuses on 23 cases of state killings associated with the conflict in the North of Ireland. The stories, including that of Seamus Ludlow (Chapter 3: pp 45-54), are told mostly by relatives who have campaigned over the killings.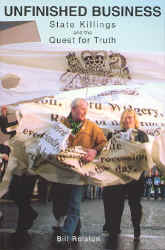 In this Irish News feature headlined "Robert's worth too much to let this go", Diane Hamill tells the moving story of the sectarian mob murder of her brother Robert, in Portadown, three years ago, in plain sight of the RUC, and of her family's campaign for justice which continues to this day.
(See links to the Robert Hamill campaign on the Ludlow family's Links page.)
I Top I
24 June 2000 - Interviewed by Anne-Marie Eaton for the Dundalk Democrat, Jimmy Sharkey said that the family welcomed the Taoiseach taking a stance and calling for a public inquiry into the death of Robert Hamill during a RTE Morning Ireland radio broadcast earlier this month.
However, he said, "We have never met with the Taoiseach to discuss Seamus' murder". It was pointed out briefly that Jimmy had a very short meeting with the Taoiseach "but as yet family representatives have only met with Minister for Justice, Equality and Law Reform, John O'Donoghue, which Jimmy states was not satisfactory".
"The Ludlow family, through their solicitor, have once again requested a meeting with the Taoiseach and are awaiting a reply."
Jimmy had met briefly with Mr. Ahern many months previously when he was part of a Relatives for Justice delegation, and this brief meeting seems to form the basis for the Taoiseach's repeated, and inaccurate, claims to have discussed the case with the "Ludlow family".
I Top I
20 June 2000 - Mr. John Bruton TD, Leader of Fine Gael, replied to an e-mail message sent to him by Jim J. Kane, Scranton, Pennsylvania.
Dear Jim,
Thank you for your recent e-mail regarding the Seamus Ludlow case - you will note from the Oireachtas website (www.irlgov.ie/oireachtas/frame.htm) that I have had exchanges with the Taoiseach regarding this case on 8th December 1999 and on 29th September 1999.

Fine Gael supports independent private investigation into the Seamus Ludlow case as recommended by Mr. John Wilson to the Government.

John Bruton T.D.,
Leader of Fine Gael.
Nothing here is encouraging to the Ludlow family. Mr. Bruton fails once again to support the Ludlow family's call for a public inquiry. To make such a call would at least be consistent with his recent demand for a public inquiry north of the border in the Robert Hamill case.
I Top I
14 June 2000 - Reported by the Belfast Irish News was a statement released the previous day by Justice for the Forgotten, the group representing most of the relatives of victims, deceased and survivors of the Dublin and Monaghan bombings of 1974. The statement, backed by the Ludlow family's Jimmy Sharkey and Kevin Ludlow, and representatives of other families affected by the murderous bombing of Dundalk in 1975, was in response to recent statements from Taoiseach Bertie Ahern in which he supported pleas for public inquiries in the North, while he remained set against equally deserving demands in his own jurisdiction. The Irish News quoted the following from the statement:
"As victims of unsolved murders in this state related to the Northern Ireland conflict, we welcomed the taoiseach's recent call for an independent inquiry into the murder of Portadown man, Robert Hamill.

"We also welcome his support for the Bloody Sunday Inquiry and his call for inquiries into the murders of human rights lawyers, Pat Finucane and Rosemary Nelson," the statement read.

"However, their calls for public inquiries into atrocities committed outside this jurisdiction ring rather hollow when compared with their continued reluctance to hold public inquiries in this jurisdiction into the murder of our loved ones who died in equally tragic and controversial circumstances."
Margaret Urwin, Secretary, Justice for the Forgotten, has granted permission for the Ludlow family to feature this press release in its entirety on another page in this website.
(See links to the Dublin and Monaghan bombings campaign on the Ludlow family's Links page.)
I Top I
14 June 2000 - Publication of the widely respected human rights organisation Amnesty International's (AI) Annual Report 2000. The full report can be accessed online.
This very detailed AI Report of global human rights issues refers briefly to Irish and UK issues including several cases of collusion between the British authorities and Loyalist murder gangs. The Ludlow family is delighted to see that Amnesty International has kept a close watch on developments in the Seamus Ludlow case and that AI's representatives have expressed strong support for the family's demands for a public inquiry.
Many issues were discussed at a meeting in June between the Irish Minister for Justice, Mr. John O'Donoghue, TD, and Amnesty International (AI) representatives. According to AI's Annual Report 2000, the issues raised at this meeting included:
asylum legislation; emergency legislation; procedures to examine complaints against the police; inquests; and inquiries into the Dublin and Monaghan bombings and the case of Seamus Ludlow. . .
The Amnesty International Annual Report 2000 continues:
Inquiries into alleged collusion
The government appointed the retiring Chief Justice, Liam Hamilton, to carry out a private, but independent, judicial inquiry into the bombings in Dublin and Monaghan in 1974, which killed 33 people and injured hundreds. Members of the Northern Ireland security forces' intelligence units allegedly colluded with the Ulster Volunteer Force, a Loyalist armed group, in the bombings. The inquiry would also examine the police investigation of the bombings, and the bombing of a pub in Dundalk in 1975. By the end of 1999, it was still not decided whether the inquiry would also examine the killing of Seamus Ludlow in 1976, and the alleged subsequent cover-up by both British and Irish authorities. Seamus Ludlow was killed in Ireland, reportedly by a Northern Irish Loyalist group, which included two soldiers.
The government stated that the inquiry's results would be published, and that a subsequent public inquiry remained possible. AI had called for public inquiries into these incidents.
Amnesty International also highlighted the murders of human rights lawyers Pat Finucane and Rosemary Nelson.
I Top I
10 June 2000 - The local Dundalk Democrat newspaper reported that the victims of the 19 December 1975 bombing at Kay's Tavern public house, in Dundalk, have adopted a "wait and see" approach to the private Hamilton Inquiry. James McGuill, the solicitor for Maura McKeever and the Watters family, who both lost their fathers in that no-warning Loyalist bomb attack, spoke to the Democrat's Anne Campbell about the current enquiry:
"At the minute we have adopted a wait and see approach to the enquiry which was announced by the department of Justice at the end of last year", said Mr. McGuill. "We would like to see a full, open, public enquiry into the murder of these two men", stated Maura.

At present there is a private enquiry into the Dublin/Monaghan Bombings, but it is not clear how deep the report, which is due for publication around November of this year, will go into the facts and the responsibility for the bombing.

"We are definitely not ruling out going into this enquiry, but would like to see what happens with this one first", said Mr. McGuill.

Maura McKeever is determined as ever to bring the perpetrators of her father's murder to justice. "We have waited a very long time just to get this far", she said. "It's not over yet. We just keep going until there is justice".

But James McGuill, Maura McKeever and the Watters family are not sitting back and waiting for things to happen. They are pushing the progress themselves. At present, they are speaking to people who were at the scene and near the town when the bomb went off on 19 December. They want to speak to anyone who was injured in the explosion, or saw anything, no matter how small, in the days and hours running up to the bombing. . .
The Ludlow family wishes Maura McKeever and the Watters family full success in their search for truth and justice for the murder of their loved ones just six months before the murder of Seamus Ludlow. Both cases point to serious questions arising from the ease at which the Loyalist murder gangs could move freely through Dundalk at a time of intense Loyalist violence in the North and equally intense Gardai activity along the southern side of border.
The inability, or unwillingness, of the Gardai to apprehend any of these Loyalist/British Army murderers, either at that time or during the quarter century that has now passed since then, must be examined at any public inquiry into the murder of Seamus Ludlow and the Dundalk bombing just six months before.
Update: The Rooney and Watters family's campaign for justice is now the subject of a new website at http://www.adon89.care4free.net/dundalk_bombing/index.htm.
(For further information about the Dundalk bombing and the campaign for justice, please see the Ludlow family's Links page.)
I Home I I Back to Top I I Latest Reports Page 1 I I Latest Reports Page 2 I l Latest Reports Page 3 l I Chronology I

SUPPORT THE SEAMUS LUDLOW APPEAL FUND

Bank of Ireland 78 Clanbrassil Street Dundalk County Louth Ireland

Account No. 70037984

Thank You. Print this page.

I Home I I Top I I First Ludlow Site I I Domain Name Site I I Questions I I Chronology I I Brief Review I I Profile I I Report I I Photographs I I Ludlow family's Letter to the RUC Chief Constable I I Latest Reports I I Hamilton Inquiry I I Contributors I I Linda Porra's Editorial I I Jim J. Kane's Letter to the Northern Ireland Human Rights Commission I I Jim J. Kane's Letter to the RUC I I Press Release I I Ludlow Family Letter to Bertie Ahern I I Links I I New Guest Book I I E-Mail Form I I Mailing List I I Tell a Friend I Chronology: 1 2 3 4 5 6

Please use one of these e-mail links to reach the Ludlow family:

Contact us! Contact us! Contact us!

or FAX: 775 - 418 - 6911

This page was last updated: 22/11/03
Copyright © 2003 the Ludlow family. All rights reserved.
Revised: November 22, 2003 .