24 June 2000 - Interviewed by Anne-Marie Eaton for the Dundalk Democrat, Jimmy Sharkey said that the family welcomed the Taoiseach taking a stance and calling for a public inquiry into the death of Robert Hamill during a RTE Morning Ireland radio broadcast earlier this month.

However, he said, "We have never met with the Taoiseach to discuss Seamus' murder". It was pointed out briefly that Jimmy had a very short meeting with the Taoiseach "but as yet family representatives have only met with Minister for Justice, Equality and Law Reform, John O'Donoghue, which Jimmy states was not satisfactory".
"The Ludlow family, through their solicitor, have once again requested a meeting with the Taoiseach and are awaiting a reply."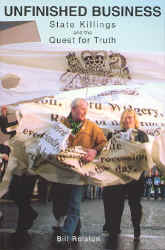 The Dundalk Democrat also reported on the soon to-be-published Unfinished Business, a book written by University of Ulster academic Bill Rolston.
"Author Bill Rolston has written a full chapter on the killing including interviews with Michael Donegan and Jimmy Sharkey, in his forthcoming book "Unfinished Business: State Killings and the Quest for Truth".

"The book focuses on family members telling their stories of how they dealt with loved ones death and their experiences over the years in demanding justice. It also demonstrates how, because of necessity, ordinary people have become champions of human rights."
See also report of the refusal of a major Irish book stockist and distributor Easons to stock this important book.
I Top I
26 June 2000 - The Belfast daily Irish News newspaper featured across two pages an excerpt of the soon-to-be-published book Unfinished Business: State Killings and the Quest for Truth, by leading academic Bill Rolston.
This new book focuses on 23 cases of state killings associated with the conflict in the North of Ireland. The stories, including that of Seamus Ludlow, are told mostly by relatives who have campaigned over the killings.
In this Irish News feature (headlined "Robert's worth too much to let this go."), Diane Hamill tells the moving story of the sectarian mob murder of her brother Robert, in Portadown, three years ago, in plain sight of the RUC, and of her family's campaign for justice which continues to this day.
(See links to the Robert Hamill campaign on the Ludlow family's Links page.)
I Top I
4 July 2000 - The office of the Chief Constable, Royal Ulster Constabulary, replied to a letter written by campaign supporter Jim J. Kane, Scranton, Pennsylvania, United States. While this reply does retread old ground and gives no new information regarding the RUC's investigation of the murder of Seamus Ludlow it does make a curious reference it not being "force policy to comment on matters pertaining to "Agents"." Here is the full text of the RUC's reply.
Dear Mr. Kane,

Murder of Seamus Ludlow

I refer to your correspondence of 5 May 2000 regarding the above.

I am advised that information relative to the murder of Mr. Ludlow was passed by the Royal Ulster Constabulary to An Garda Siochana in 1979.

I am further advised after a request from the Garda in 1998 the RUC arrested and interviewed four persons in relation to the murder. All four persons were released pending a report to the Director of Public Prosecutions. On 15 October 1999 the DPP directed "No Prosecution".

I can inform you it is not force policy to comment on matters pertaining to "Agents". Police reports to the DPP are confidential documents as are forensic/ballistic reports.

Finally, the question of whether or not a public inquiry should be held is not for the RUC to determine.

I trust this is of assistance.

Yours sincerely,

R.D. McCausland

Superintendent

for Chief Constable
I Top I
18 July 2000 - In a letter to the Irish Times, Councillor Dessie Ellis (Sinn Fein), responding to criticism of his party by Dr. Garret Fitzgerald, formerly Taoiseach and leader of Fine Gael, in his column of 8 July:
Mr. Ellis rebuked Dr. Fitzgerald for remaining silent about "the violence - including killing children with plastic bullets, shoot-to-kill operations and collusion with loyalist death-squads - of British forces in the North"
He continued:
". . . His governments failed to properly investigate the Dublin/Monaghan bombings (the worst atrocity of the Troubles) and the sinister killing of Seamus Ludlow in Dundalk. Not only did he remain silent, but his governments spent vast sums of Irish taxpayers' money in collaborating with these forces. . .".
Councillor Ellis makes a fair point. Certainly, Fine Gael was in government at the time of Seamus Ludlow's murder by a Red Hand Commando and Ulster Defence Regiment murder gang in May 1976 - and also in government on several occasions since than too, but other parties have also held power in Dublin and they also failed "to properly investigate" the atrocious crimes that were committed in the Irish State by pro-British forces.
I Top I
21 July 2000 - Jane Winter, Director of British Irish Rights Watch, London, wrote again to Taoiseach Bertie Ahern, urging him to hold a public inquiry into the murder of Seamus Ludlow. She wrote:
Although it has been announced that this dreadful murder will be examined by Mr. Justice Hamilton as part of his Commission of inquiry, you will be aware that this decision was taken without consultation with the relatives of Seamus Ludlow. They have always called for a public inquiry, and are not satisfied with a Commission of inquiry, which will not enable them or their lawyers to have direct access to primary evidence which has been denied them for many years. There is absolutely no doubt in my mind that they have been the victims of a cover-up, and in refusing them the public inquiry they seek the Irish Government only fuels public perception that cover-up took place on both sides of the border.

The Irish Government has been staunch in its support for the Bloody Sunday relatives, the Finucane family and the Hamill family, all of whom I know are very grateful for you support for public inquiries in their cases. Seamus Ludlow's relatives can only look on and wonder why the same support is not forthcoming for them. I feel bound to mention that when i attended a meeting between them and the Minister for Justice i was appalled by his apparent lack of sympathy and respect for their situation.

Some of Seamus Ludlow's relatives are getting on in years and do not enjoy the best of health. It will be a bitter blow indeed should any of them die before the truth about their loved one's brutal murder is uncovered.

I have observed on the occasions when we have met that you personally have a burning passion for justice. Surely that passion, and the compassion that I also know you have for the victims of the conflict, speaks to you now. Please bring an end to this misery and order a public inquiry into Seamus Ludlow's death.
I Top I
28 July 2000 - The following letter was received by the Ludlow family's solicitor from the Taoiseach's office in Dublin.

Dear Mr. MacGuill,

I have been asked by the Taoiseach, Mr. Bertie Ahern, T.D. to refer to your letters of 9 June and 18 July, 2000 about the above matter.

The Taoiseach has asked me to draw to your attention that in the course of a reply to Parliamentary Questions on this matter on 23 May, he said

"the best way forward in my view is for the Government to extend the remit of Mr. Hamilton to this case on a basis broadly similar to that which applies in the case of the Dublin/Monaghan bombings. in this regard, discussions between Departments and offices concerned on the detailed terms of reference are close to a conclusion, following which proposals will be put before the Government. If approved by the Government, the proposed terms will be the subject of consultation with Mr. Hamilton and with the legal representatives of the victim's relatives."

The Taoiseach is conscious of the position that you and your clients have consistently taken in favour of the institution of an independent judicial inquiry into this matter. However, as indicated by him in Dail Eireann, he is convinced that the most appropriate approach is to proceed broadly on the lines of the Commissions of Inquiry into the Dublin/Monaghan and Dundalk bombings being conducted by the former Chief Justice, Mr. Liam Hamilton, S.C.. Under this approach, a public judicial inquiry is not ruled out at this stage. It would be one of a number of options that could be considered, following on the completion of an examination by an eminent legal person.

Nor would examination by Judge Hamilton preclude your clients continuing, if they wished, to campaign for a public inquiry, as the Justice for the Forgotten group continue to do in regard to the Dublin/Monaghan bombings.

The case of the murder of Mr. Ludlow has been dealt with in a recent submission to the Government. it is now expected that interdepartmental consultations on the best approach will be brought to a conclusion soon, with a view to a further submission to an early meeting of the Government.

yours sincerely,

pp David Feeney

Brendan Ward.
Private Secretary to the Taoiseach.

I Top I
8 August 2000 - The following ridiculous message appeared briefly on one of the campaign's websites. It is laughable. It appears here only as an indication of the bitter opposition that this campaign for justice arouses in certain quarters. (Misspellings and other flaws appear here as they were written.)
Name: Prodestant
Country: Ulster
Email: ulster@6counties.co.uk
Website: www.defendtheruc.com
Date: 08 August 2000
Comments - For every catholic who is murdered despite the circumstances,if the reletives cannot blame loyalist terrorists then they try to pin the blame on the security forces.The british security forces do a tremendous job and at times a dangerous and thankless one as well, i feel you should be condeming the likes of the IRA rather than the people who risk they're lives to defend their part of Britain.
So now we know the Ludlow family should be thanking the RUC and the British Army for they did such a "tremendous job", when they concealed the truth behind the murder of Seamus Ludlow. Also, they, and other families of victims of British forces and Loyalist murder gangs, should not be blaming the actual perpetrators for their evil deeds.
The Ludlow family will not take such advice from an apologist for the British/Loyalist murder gangs. . . But still they persist. . .
I Top I
11 August 2000 - The Ludlow family circle was devastated on hearing of the death, after a long illness, in Daisyhill Hospital, Newry, of Louth County Councillor Miceal O'Donnell (aged 67 years), a dear friend, good neighbour and a staunch supporter of their fight for justice. The Ludlow family has lost a valuable friend and supporter who will be dearly missed.
Living just south of the border

, and a short distance from the Sharkey-Ludlow home at Thistlecross, Mountpleasant, Miceal had been a close and personal friend of the late Seamus Ludlow and other members of the family.
In his role as County Councillor, Miceal O'Donnell was always available to help the Ludlow family when asked to do so. Elected to the Louth County Council in June 1979, Miceal held the post of Chairman twice, 1990-91 and 1998-99, and on the latter occasion he never failed to stand faithfully with the Ludlow family in their demands for truth and justice.
Speaking to the local Dundalk Democrat, 19 August 2000, Jimmy Sharkey, a nephew of Seamus Ludlow, said:
"Miceal was a very good friend and staunch supporter of the Ludlow family. Anytime he was called on by the family to speak at the County Council, or, in the media, he would do so".
Jimmy said that over the past twenty years Miceal had held the belief that the truth into Seamus' murder would have to come out. Councillor O'Donnell went on to bring the matter to County Council level, and in his capacity as County Council Chairman, attended a special Press Conference organised by the Ludlow family in Dublin on 18 February 1999. He kindly drove three of Seamus Ludlow's nephews to Dublin on that occasion.
Proudly wearing his chain of office as Chairman of Louth County Council, Miceal accompanied members of the Ludlow family throughout a gruelling day of engagements, culminating in a public public meeting later that night at Dundalk Town Hall.
Later, in December 1999 Miceal seconded a motion at a meeting of Louth County Council, calling for an independent public inquiry into the murder of Seamus Ludlow. Here is how his contribution was reported by the local Dundalk Democrat (Saturday , 25 December 1999):
Cllr. Miceal O'Donnell said the mentality of the seventies was still here today. He was not "garda bashing" but he wanted to get rid of the rotten apples in the barrel." These men now have pensions funded by the State. The gardai said they would represent the family and they told blatant lies. This has to be taken into account".

"A man's life was taken and the only sin was that he was in the wrong place at the wrong time. The Ludlows must have all the information they need."

Cllr. O'Donnell said Mr. Ludlow was a neighbour of his and on the Saturday night before his murder he was sitting in his kitchen, teaching his children to play cards. "That was the simple kind of man that he was", he added.
The Ludlow family was deeply honoured to have Miceal O'Donnell's unstinting support on that occasion, and to his family they extend their deepest sympathy towards their great loss.
Ar Dheis go raibh a Anam.
I Top I

Back to Top. I Previous I I Next I

SUPPORT THE SEAMUS LUDLOW APPEAL FUND

Bank of Ireland 78 Clanbrassil Street Dundalk County Louth Ireland

Account No. 70037984

Thank You.

I Home I I Previous I I Top I I First Ludlow Site I I Domain Name site I I Questions I I Chronology I I Brief Review I I Profile I I BIRW Report I I Photographs I I Ludlow family's Letter to the RUC Chief Constable I I Hamilton Inquiry I I Contributors I I Linda Porra's Editorial I I Jim J. Kane's Letter to the Northern Ireland Human Rights Commission I I Jim J. Kane's Letter to the RUC I I Latest Reports I I Press Release I I 25th Anniversary I I Links I I New Guest Book I I E-Mail Form I I Mailing List I I Tell a Friend I

This page was last updated: 12/07/05
Copyright © 2005 the Ludlow family. All rights reserved.
Revised: July 12, 2005 .