More about the CD formerly available to supporters of the Seamus Ludlow campaign.
Here is a photograph of the front cover of the fund raising CD that is now no longer available.
Please note that this CD was not produced by the Ludlow family, and it is no longer available!
The CD was kindly produced independently by a group of people who have supported this campaign consistently for several years. This is but one of their kind efforts to raise funds on our behalf.
Below the photograph there is an article written by Tom McQuaid, one of the good people responsible for this project. In the article, Tom explains his group's reasons for supporting the Ludlow family.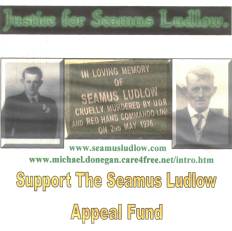 THE MURDER OF SEAMUS LUDLOW
Tom mcQuade…Ta ar la anois (our day is now)
Ta ar la anois is an Internet based Republican Support group. Because we are web based our members come from the worldwide community, but mainly from Europe, Canada and America. Our group is open to anyone but is by invitation only, this is not to make our group exclusive in anyway but to ensure that all members have a knowledge of the issues we deal with and are therefore able to take an active part in the groups activities. It also serves as a deterrent to people who want to read but not take part.
This year we have embarked on a campaign to highlight the case of the Ludlow family and their quest to bring to justice the murderers of their relative Seamus.
Seamus Ludlow was for many years a forgotten and unrecognised victim of the troubles. He was not a member of the IRA, he was not a volunteer, and he was not an informer. He was just an ordinary man going about his business in order to earn a living. Denied justice and recognition as an innocent victim of the pro-British sectarian murder gangs and smeared for political reasons by the authorities, who failed in their duty to uphold the law and care for the innocent.
Today the Ludlow family demands to know the truth and demands justice for their loved one, like so many other families and victims of these murder gangs. They demand nothing less than the full disclosure of this heinous murder, through public inquiries on both sides of the Irish border.
Please support the Seamus Ludlow Appeal Fund
Many will ask the question why should we support this fund, and not one of the many other groups in need of support. We understand that argument, however the Ludlow family have in recent weeks received a lot of attention from the media at large and also from TV companies wishing to highlight their case. The family are hoping to go to court shortly and feel they are very close to a public enquiry, this of course will cost a great deal of money, money they do not have in abundance. But with our help they can get there. The answer therefore to the original question is this, if the Ludlow family can get their enquiry and can win their case this will open up the corridors of power to ALL the other families and will help make their own cases much stronger.
Ta ar la anois has put together a CD which we will give to anyone prepared to make a donation £5 to the Appeal fund. The Cd is full of music, which will appeal to people both Republican/Nationalist and other. In order to get a copy of the CD please contact thebhoys01@yahoo.com in the first instance and from there you will be given the details required. Please add an extera £1 if posting will be reqired.
Go~n-érie leat
Tom McQuade
Please note: This CD is no longer available.

SUPPORT THE SEAMUS LUDLOW APPEAL FUND
Bank of Ireland
78 Clanbrassil Street
Dundalk
County Louth
Ireland
Account No. 70037984
Thank You. Print this page.
I Home I I Top I I First Ludlow Site I I Domain Name Site I I Questions I I Chronology I I Brief Review I I Profile I I Report I I Photographs I I Ludlow family's Letter to the RUC Chief Constable I I Latest Reports I I Hamilton Inquiry I I Contributors I I Linda Porra's Editorial I I Jim J. Kane's Letter to the Northern Ireland Human Rights Commission I I Jim J. Kane's Letter to the RUC I I Press Release I I 25th Anniversary I Ludlow family letter to Bertie Ahern I I Ed Moloney Interview I I Meeting the Police Ombudsman I I Links I I New Guest Book I I E-Mail Form I I Mailing List I I Tell a Friend I Chronology: 1 2 3 4 5 6
Copyright © 2005 the Ludlow family. All rights reserved.
Revised: December 03, 2005