The Irish Daily Mirror, 7 November 2006:
| | |
| --- | --- |
| | Shock report alleges high-level collusion |
| | Officials 'had information on 25 atrocities' |
| | RUC & Army 'helped loyalists carry out. . |
74
MURDERS
By Dan McGinn
Loyalist killers were helped by security forces during the bloodiest period of the Troubles, it was claimed yesterday.
Police and soldiers colluded in 74 sectarian murders during the 1970s, a probe by an international panel of human rights experts revealed.
They said investigations of 25 atrocities led them to believe RUC officers were aware and approved of collusion.
The group was asked by Derry-based human rights group the Pat Finucane Centre to investigate the incidents.
Among the atrocities looked at were the murder of 33 people in UVF bomb attacks in Dublin and Monaghan in 1974 and the gunning down of three members of the Miami Showband in 1975.
Two of the UVF gang who ambushed the musicians died when their bomb exploded prematurely. In a 115-page report, the panel said: "Credible evidence indicates superiors of violent extremist officers and agents, at least within the RUC, were aware of their sectarian crimes yet failed to act to prevent, investigate or punish them.
"On the contrary, they allegedly made statements that appeared to condone participation in these crimes.
"As early as 1973, senior officials of the UK were put on notice of the danger of sectarian violence by UDR soldiers using stolen weapons and ammunition.
"At least by 1975, senior officials were also informed that some RUC police officers were 'very close' to extremist paramilitaries."
The panel, whose members include a University of Notre Dame law lecturer in the US and a former investigator for the South African Truth and Reconciliation commission, added known criminals were allowed to roam freely on the other side f the border".
While the rights body welcomed reforms introduced by the government to investigate the murders, they claimed they were still insufficient for getting to the heart of collusion cases.
Police Ombudsman Nuala O'Loan, they said, did not have the powers to investigate collusion among the UDR.
The €45million Historical Enquiries Team also fell short of international standards for investigations.
Among the panel's recommendations were the setting up of an independent team to look at all allegations of collusion and full investigations into murders carried out by republicans.
They also suggested co-operation by paramilitary groups on both sides.

I Top I
The Irish Daily Mirror, 7 November 2006:
So Many Victims
October 1972 - BricklayerPatrick Connolly, 23, dies after the UVF hurl a grenade into his Portadown home.
October 1973 - Francis McCaughey, 33, dies after explosion at Glassdrummond, south Armagh.
October 1973 - Patrick Campbel, 34, shot in Banbridge, Co Down. UVF hitman is picked out of a line-up as the killer. No one was ever convicted.
January 1974 - Retired farmer Daniel Hughes, 72, dies in gun attack in Cappagh, Co Tyrone.
February 1974 - Patrick Molloy, 46, and Jack Wylie, 45, a Protestant, killed in explosion at Traynor's Bar, Killmore, Co Armagh.
May 1974 - Thirty-four people, including an unborn child, murdered in Dublin and Monaghan explosions.
November 1974 - Father-of-six Patrick Falls, 49, is shot at family-run pub near Coalisland, Co Tyrone.
January 1975 - IRA man John Francis Green, 27, is gunned down in Castleblayney, Co Monaghan.
April 1975 - Father-of-eight Owen Boyle, 41, killed in Aughnacloy, Co Tyrone, by Protestant Action Force (UVF)
April 1975 - Seven months pregnant Marion Bowen, 21, dies with her brothers Seamus, 23, and Michael McKenna, 27, when a bomb explodes at their Killybliss home in Co Tyrone.
April 1975 - Family men John Feeney, 45, Joseph Toman, 48, and38-year-old Brendan O'Hara die in a gun attack at Bleary, Co Armagh.
July 1975 - Three members of the Miami Showband, Anthony Geraghty, Brian McCoy and Fran O'Toole, killed at bogus UDR checkpoint in Co Down.
August 1975 - Colm McCartney, 22, and friend Sean Farmer, 32, are gunned down in South Armagh.
October 1975 - Peter and Jennie McKearney shot dead at Moy, Co Tyrone by UVF, leaving five children.
December 1975 - Jack Rooney, 61, and Hugh Watters, 60, die when the UVF shoot into Dundalk pub.
January 1976 - Brothers Barry, 24, and Declan O'Dowd, 19, died with their uncle Joseph, 61, in UVF attack. On the same night brothers John and Brian Reavey were killed. A third brother, Anthony, died of brain haemorrhage.
March 1976 - Bomb in Co Monaghan kills Patrick Mone.
March 1976 - Patrick Bernard and James McCaughey, both 13, die with Joseph Kelly, 56, and Andrew Small, 61, after explosion at Dungannon bar.
May 1976 - Frederick McLoughlan, 48, shot dead at bar in Charlemont, Co Armagh. Moments later, Vincent Clancy, Sean O'Hagan, and Robert McCullough, die when a bomb explodes in pub just 100 yards away.
February 1977 - Father-of-eight RUC Sgt Joe Campbel shot dead at Cushendall RUC station in Co Antrim.

I Top I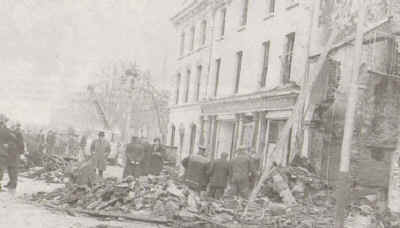 See also:
The Pat Finucane Centre, Derry, statement, 3 November 2006: INVITATION TO THE LAUNCH OF THE REPORT OF THE INDEPENDENT INTERNATIONAL PANEL

ON ALLEGED COLLUSION IN SECTARIAN KILLINGS IN NORTHERN IRELAND . . .
Irish Times/ireland.com, 6 November 2006: Garda Castigated In Report On North Collusion
Irish American Information Service online, 6 November 2006: RUC APPROVED AND COLLUDED IN 25 MURDERS - REPORT
2006-11-06 11:53:00.0 EST
BBC News online, 6 November 2006: Security 'Links' To Murder Plots
Ulster Television News online, 6 November 2006: US academic shocked by report's findings
Belfast Telegraph, 7 November 2006 Collusion: PSNI team 'not capable of getting to truth' Orde defends cold case team after international criticism
Irish Independent, 7 November 2006: Inquiry 'shocked' at RUC collusion
The Irish Examiner, 7 November 2006: Evidence found of British collusion in bombings
The Guardian, 7 November 2006: RUC and army 'backed killers'
The Irish-American Information Service, 7 November 2006: PRESSURE ON BRITISH TO INVESTIGATE COLLUSION EVIDENCE
The Irish News, 7 November 2006: Questions haunt probe into loyalist collusion.
The Dundalk Democrat, 15 November 2006:'We just want the truth' New investigation into 1975 bombing
I Top I

I Top I
Produced in association with the Ludlow Family.
Last edited: 19 November 2006 17:02:06

Visit the Ludlow family's website. Visit Justice for the Forgotten Statement by John Oliver Weir
Download the Barron Report (pdf file) on the Dundalk bombing.
Download the Barron Inquiry Report into the 17 May 1974 Dublin and Monaghan bombings, (pdf file)
Barron Report: on the Dublin Bombings of 1972 and 1973, can also be downloaded in pdf form
Download the Barron Report into the murder of Seamus Ludlow from the Oireachtas website (pdf file)

Copyright © 2006 the Rooney, Watters and Ludlow families. All rights reserved. Revised: November 19, 2006 .