The Dundalk Democrat, 6 December 2006:
Dundalk bombings news special: Reports by Anne Marie Eaton.
Truth must emerge
A bomb warning only days before the 1975 bombing on Crowe Street should have been dealt with differently, the Oireachtas Committee has said.
Explanations that warnings were continuous at the time failed to impress the Committee.
This warning was different. It was sufficiently clear and it was sufficiently specific.
The main focus of the Oireachtas Committee's report's conclusions was the collusion between the British Security Forces and terrorists.
The collusion, the Committee said, went as high as it could go.
"The British cabinet was aware of the level to which the security forces had been infiltrated by terrorists and we believe that its inadequate response to this knowledge permitted the problem to continue and to grow.
"Unless the full truth about collusion is established and those involved either admit or are fixed with responsibility then there cannot be closure for the families," the committee concluded.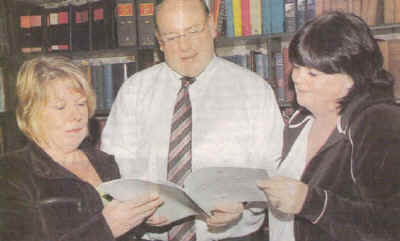 I Top I
See also the following reports from this issue of The Dundalk Democrat:
Hope at last for victims families
Taoiseach supports debate on collusion
Case gets attention it deserves

Download the Barron Report (pdf file) on the Dundalk bombing.

Download the International Report on Collusion from the Pat Finucane Centre website

Download the Oireachtas Report on the Dundalk bombing and other collusion attacks

Last edited: 29 December 2006 02:32:51

Visit the Ludlow family's website.


Powered by Bravenet


Copyright © 2006 the Rooney, Watters and Ludlow families. All rights reserved.
Revised: December 29, 2006 .