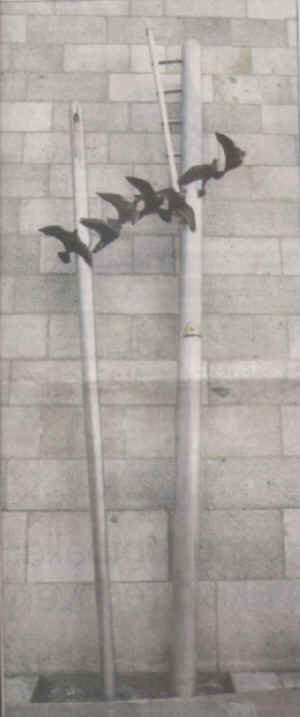 On 19 December 1975, at 6.22pm, a loyalist car bomb ripped through the centre of Dundalk and not only left two grieving families but also changed the history of the town.
In recent years a plaque in memory of the two dead men Jack Rooney and Hugh Watters has been placed on the Town Hall building, across the road from where the car bomb exploded demolishing Kay's Tavern public house.
On the 30th anniversary of the Dundalk bombing a Mass was celebrated in the Town Hall building.
This year the 32nd anniversary was commemorated by the unveiling of a sculpture on Crowe Street.
The sculpture depicts items relating to the working lives of victims Jack Rooney and Hugh Watters. Bronze doves fly across a needle commemorating Hugh Watters' life as a tailor in Dundalk and a ladder and fireman's helmet commemorate Jack Rooney who had been a fireman in the town for several years.
As the Rooney and Watters families gathered together on yet another anniversary, they remained adamant that the truth and circumstances behind the deaths of their loved ones must be made known.
To find out more about this monument to Jack Rooney and Hugh Watters read the report from the Dundalk Democrat newspaper, 19 December 2007. To find the article use this link>>>>.

Produced in association with the Ludlow Family.
Last edited: 22 December 2007 20:39:39

Visit the Ludlow family's website. Visit Justice for the Forgotten Statement by John Oliver Weir
Download the Barron Report (pdf file) on the Dundalk bombing.
Download the International Report on Collusion from the Pat Finucane Centre website
Download the Oireachtas Report on the Dundalk bombing and other collusion attacks
Download the Barron Inquiry Report into the 17 May 1974 Dublin and Monaghan bombings, (pdf file)
Barron Report: on the Dublin Bombings of 1972 and 1973, can also be downloaded in pdf form
Download the Barron Report into the murder of Seamus Ludlow from the Oireachtas website (pdf file)

Copyright © 2007 the Rooney, Watters and Ludlow families. All rights reserved. Revised: December 22, 2007 .