The Dundalk Democrat, 6 December 2006:
Dundalk bombing news special: Reports by Anne Marie Eaton
Case gets attention it deserves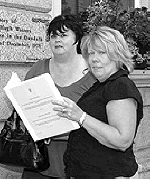 What was once a story very few journalists wanted to touch, has become front page news throughout the country, Maura McKeever said.
"In the beginning of our efforts to get the truth for our families, very few people wanted to talk to us, and in the early days of the Barron Report we were probably looked on as a more minor case but I do feel we are getting a lot more attention now.
"The Barron Report could only go so far but the Oireachtas Committee seem to have taken us even further and given the Dundalk bombing the prominence it deserves."
It apparently seems that the country's press has also woken up to the injustices suffered by both the Rooney and Watters families.
After the Oireachtas Committee issued their report, a press frenzy ensued.
"I couldn't believe that the bombing was the number one story for RTE 1 radio also.
"It is really getting the attention it deserves right now and we hope that this will continue until we finally get the truth we all deserve."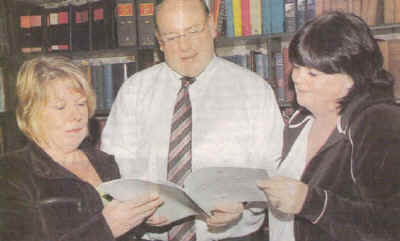 I Top I
See also the following reports from this issue of The Dundalk Democrat:
Hope at last for victims families
Taoiseach supports debate on collusion

Download the Barron Report (pdf file) on the Dundalk bombing.

Download the International Report on Collusion from the Pat Finucane Centre website

Download the Oireachtas Report on the Dundalk bombing and other collusion attacks

Last edited: 29 December 2006 02:36:11

Visit the Ludlow family's website.


Powered by Bravenet


Copyright © 2006 the Rooney, Watters and Ludlow families. All rights reserved.
Revised: December 29, 2006 .