The Dundalk Democrat, 6 December 2006:
Dundalk Bombings News Special: Reports by Anne Marie Eaton
Taoiseach supports debate on collusion
Speaking after the publication of the report on the Dundalk Bombings of 1975 by the Joint Oireachtas Committee, An Taoiseach, Bertie Ahern, made the following statement:
"First and foremost, our thoughts are of course with the families of the victims of the Dundalk Bombing and all of the other incidents covered in this report.
We must also remember all the many other victims, on all sides, in what was a dark and tragic period of the history of this island.
I established the inquiries by the late Judge Hamilton, Judge Barron and most recently Mr McEntee precisely because of the long-standing suspicions about the circumstances of these attacks in the 1970s.
The findings in this report regarding collusion are deeply troubling and a matter of most serious concern. They paint a very disturbing picture.
We have consistently pressed the British government for any cooperation they can provide in relation to all of these incidents.
We have been in contact with the British government today.
It is absolutely essential that the British government examine the findings of all of these reports, as well as the forthcoming McEntee Report, and that it fully cooperates with all investigations into the serious issues that have arisen.
This is the last of Judge Barron's Reports to be considered by the committee and the work done to date by them is to be commended.
I fully support their call for a full debate in the Dail and Seanad on collusion."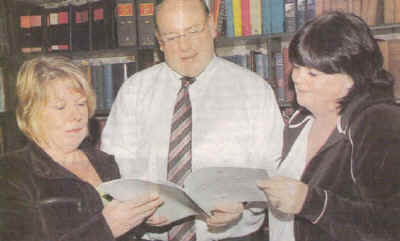 [Home] [Back to Top.]
See also the following reports from this issue of the Dundalk Democrat:
Hope at last for victims families
Case gets attention it deserves

Download the Barron Report (pdf file) on the Dundalk bombing.

Download the International Report on Collusion from the Pat Finucane Centre website

Download the Oireachtas Report on the Dundalk bombing and other collusion attacks

Last edited: 29 December 2006 02:34:55

Visit the Ludlow family's website.


Powered by Bravenet


Copyright © 2006 the Rooney, Watters and Ludlow families. All rights reserved.
Revised: December 29, 2006 .