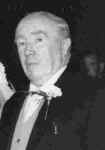 The Irish Examiner online edition, 27 February 2003:
---
Group calls for new Dublin-Monaghan bombings inquiry
27/02/2003 - 6:35:34 pm

There has been another call for a public inquiry into the Dublin and Monaghan car bombings in 1974, and an explosion in Dundalk in 1975.

The Justice for the Forgotten group says it is furious with the British government over its failure to properly co-operate with the Barron Inquiry, which is investigating the bombings.

Spokesperson Margaret Urwin says London has broken its promises.

"We are very disappointed that despite assurances given by the Prime Minister Tony Blair and by the former Northern Ireland Secretary Dr John Reid that very little of substance has been forwarded to the Commission of Inquiry," she said
---
Produced in association with the Ludlow Family.
Last edited: 23 December 2003 14:07:25
Visit the Ludlow family's website.
---
Copyright © 2003 the Rooney, Watters and Ludlow families. All rights reserved. Revised: December 23, 2003 .