Taoiseach Bertie Ahern has been urged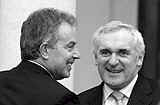 to call a special summit with Britain's Prime Minister Tony Blair on collusion following the publication of the new Barron report.
Sinn Féin Dáil leader Caoimhghín Ó Caoláin said: "Judge Barron reinforces the case that the mid-Ulster UVF, which was responsible for the fatal bombings at Dublin, Monaghan, Dundalk, Castleblayney and other attacks, acted in collusion with British crown forces.
"The report again highlights the fact that the Mitchell farm at Glennane, Co Armagh, was the UVF base for attacks.
"It also highlights that members of the RUC and UDR were members of the gang and that British crown forces at a higher level were well aware of what was going on there.
"Judge Barron points out that, once again, the British authorities gave minimal co-operation to his inquiry.
"This emphasises the need for a special summit meeting on collusion to be demanded of the British prime minister by the taoiseach.
"The taoiseach should press the British prime minister to require the British crown forces to co-operate fully with the hearings that will be held by the Oireachtas committee considering the Barron report, including attending the hearings in Dublin. Nothing less is acceptable," said Sinn Féin Dáil leader Caoimhghín Ó Caoláin.
Mr Justice Henry Barron's report focuses on the Dundalk bombing of December 19, 1975.
However, the report also contains references, in the form of appendices, to other incidents that were brought to the attention of the inquiry, including bombings in Castleblayney, Dublin Airport, and Silverbridge in Co Armagh, and the 1975 Miami Showband murders.