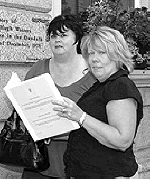 Loyalist bombers who blew up a Dundalk pub in 1975 were treated better than the victims' families, a relative said.
An Oireachtas committee yesterday published a 200-page interim report on the no-warning blast at Kay's Tavern in the Co Louth town.
The 60-year-old tailor Hugh Watters and the 62-year-old lorry driver Jack Rooney were killed and 20 people were injured after a car bomb detonated on Crowe Street. No one has been convicted of the bombing.
Mr Watters' daughter Margaret English told the launch of the report in Leinster House that the Southern state had neglected the victims' families.
"I would like to say that the victims were shown very little respect over the years.
"I think the bombers were treated better than we were. It is absolutely disgusting that citizens of the state were treated in this way," she said.
Mrs English said her family had held an event at the scene last December to mark the 30th anniversary of the bombing.
"It was held at 6.22pm, the time when Daddy died, but the gardaí wouldn't even stop the traffic for us," she said.
Oireachtas committee chairman Seán Ardagh assured the families that they would get ample opportunity to express their frustrations at parliamentary hearings on the interim report in late September.
The interim report was based on the findings of Mr Justice Henry Barron.
The judge said: "By their [British security forces'] attitudes towards loyalist violence and towards violent members of their own forces, some senior members allowed a climate to develop in which loyalist subversives could believe that they could attack with impunity. However, there is no evidence that senior members of the security forces were involved in any way in the bombing."