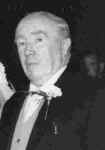 The Argus, 13 August 2004:
The families of Dundalk bomb victims stay positive about enquiry
The family of Jack Rooney, who was killed in the Dundalk bombing of 1975, said this week they were remaining positive about the outcome of the enquiry being conducted by Justice Henry Barron.
The families of both Jack Rooney and Hugh Watters, who died as a result of the car bomb attack on Crowe Street on 19th December 1975 met with Justice Barron on his visit to Dundalk last week.
Maura McKeever (nee Rooney) said that she felt the enquiry findings, which are due to be published before Christmas, would represent "the first time we have got any real answers about what happened that night."
Justice Barron, she added, had been "very open with us, and was keen to find out if there was anything else we needed to discuss with him."
Mrs McKeever once aired her fears that the truth behind her father's death might never be known.
But, as both Dundalk families await the outcome of the private investigation being conducted by Justice Barron, she said she felt "a lot more positive."
"We have always called for a public enquiry into the Dundalk bombing, as both of our families have never had our questions answered."
Some of the questions she hoped would be answered by Justice Barron were: "Were there any warnings given? How much did the Gardai know?"
She added that it was "appalling" that the government of the day did not take more interest in the atrocities in Dundalk, and that her family had felt completely forgotten.
"We were never told anything after the bombing. There was no one able to help us understand what had happened and why, that is why we have had to keep pushing for an enquiry."
She shared the concerns of the family of Seamus Ludlow, who have continually called for a public enquiry into the death of the Mountpleasant man.
"We understand that Justice Barron can ask people to co-operate with his investigation, but he can't compel them to cooperate. It would be as different case with a public enquiry."