A message from Maura McKeever, daughter of victim Jack Rooney.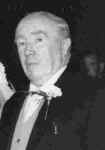 With the regeneration of awareness about the Ludlow murder and the Dublin/Monaghan bombings, it seems as if the country has forgotten about the 19th December 1975, when a bomb exploded outside Kay's Tavern in Dundalk.

My father, Jack Rooney, went on his bicycle to work that morning and never came home. He was one of two men in Dundalk who were murdered by the bomb. Mr. Watters, the other victim, was killed instantly, while my father died three days later as a result of his injuries.

We buried him on Christmas Eve 1975.

For 24 years every Christmas is a stark reminder that my father was murdered and that nothing has been done about the people who murdered him.

Both the families who lost their fathers and husbands would like to see justice served. We would like our questions answered as to who murdered them and why there was no fruitful investigation.

We are angry and upset that no one has been charged with these murders. We are also angry about the lack of Communication in the aftermath of the bombing. We felt isolated and alone. It seemed there was no one to help us cope with our great loss through offer of counselling. There was a deafening silence from the investigation team and we never had any idea what stage it was at.

25 years has been too long to wait for justice.

Maura McKeever Doylesfort Road Carnbeg Dundalk County Louth Ireland

[Back to Top.]


Powered by Bravenet

Produced in association with the Ludlow Family.
Last edited: 13 July 2006 17:20:23
Visit the Ludlow family's website.

Copyright © 2006 the Rooney, Watters and Ludlow families.
All rights reserved.
Revised: July 13, 2006 .