http://www.ireland.com/newspaper/ireland/2006/0928/1158591131658.html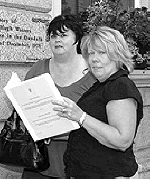 Gardaí Faced 'Brick Wall' In North Inquiry
John Downes
Garda efforts to investigate loyalist bombings in the
Republic in the 1970s frequently hit a "brick wall" once
their inquiries led them north of the Border, an Oireachtas
sub-committee heard yesterday.
Retired Garda Sgt Owen Corrigan told the sub-committee on
the Barron report on the bombing of Kay's Tavern in Dundalk
in December 1975, that in one such instance, the initially
helpful attitude of a senior RUC Criminal Investigation
Department (CID) officer "changed completely".
This happened in February 1979 when Mr Corrigan and his
superior officer, retired Chief Supt John Courtney, sought
to meet an RUC constable in Belfast .
The constable was understood to have information about the
theft of the car used in the bombing of Kay's Tavern, but
the two gardaí were not permitted by the CID officer to
meet him.
Mr Courtney agreed with this. Gardaí had "no authority" to
go to the North to question individuals and were dependent
upon RUC co-operation, he said.
However he had passed information regarding the suspected
membership of RUC officers in the gang involved in many of
the murders on to Garda security and intelligence, known as
C3.
Both men agreed, in response to questioning from Senator
Jim Walsh (FF), that it was their belief that there was
collusion between British forces, the RUC and those
involved in the bombing.
Garda Commissioner Noel Conroy said any files requested by
Mr Justice Henry Barron had been given to him.

© The Irish Times