The Dundalk Democrat, 27 September 2006: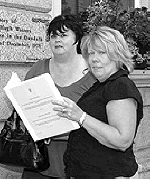 Daughter of bomb victim wants justice
A daughter of Dundalk bombing victim Hugh Watters has appealed for an Oireachtas Committee to "go through God for justice" for her father.
Margaret English said she was totally exhausted after an afternoon in which she along with Maura McKeever, daughter of Jack Rooney who was also killed in the 1975 bombing in Crowe Street, expressed their desire for justice for their fathers.
The families of the two men killed believe a major miscalculation by Gardai averted them away from Crowe Street and towards the Imperial Hotel as the likely target.
Speaking after the opening session of the Joint Committee on Justice, Equality, Defence and Womens Rights looking into the Dundalk bombing as well as other atrocities, Margaret spoke of the trauma she and Maura have gone through.
"I simply said I wasn't going to go into legalities. I just talked about my father who was a gentleman and I appealed that they go through God for justice for him and to show Christian charity for the families."
Margaret said she told the committee how she had been brought up not to question the system and that the thought of collusion never entered her head until the late 1990s. "I said that it broke my heart to think the Irish government did a worse thing than those who killed our fathers.
"If gardai had investigated the other incidents then my dad and Maura's dad would not be dead."

Visit the Ludlow family's website. Visit Justice for the Forgotten Statement by John Oliver Weir
Download the Barron Inquiry Report into the 17 May 1974 Dublin and Monaghan bombings, (pdf file)
Barron Report: on the Dublin Bombings of 1972 and 1973, can also be downloaded in pdf form
Download the Barron Report into the murder of Seamus Ludlow from the Oireachtas website (pdf file)

Copyright © 2006 the Rooney, Watters and Ludlow families. All rights reserved. Revised: October 02, 2006 .